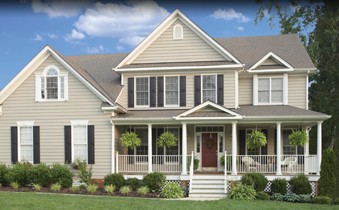 Our full line of siding and exterior accessory colors and options offer beautiful low-maintenance opportunities to extend a home's style and outdoor charm.
Siding and Accessories
Our diverse selection of vinyl siding styles and colors are sure to match homeowner's desires. Style Crest's siding experts stay on top of the latest and greatest trends, seeking new and unique products homeowners can use to differentiate themselves. Our HOMEX® Innovative Exteriors brand is an ideal choice for lumber building material dealers. RMC® Siding offers premium-quality vinyl siding products to 1-step distributors.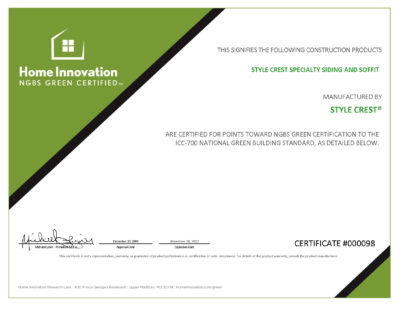 We can help your customers put the finishing touches on any exterior with mounting blocks, dryer, soffit and gable vents, lineals, corner posts and more from our Perrenia line of accessories. We also offer color matched accent products  like Shakes and Trim Coil.
Many of our exterior products are Green Approved by the NAHB Research Center, meet ASTM standards all are backed by a rock-solid warranty.
Wonder what that house would like in another color...
Check out these siding sliders to explore our color options for featured siding brands
---
Color images represented on this website have been provided to give you a visual representation. However, due to variations in individual user's monitor settings, calibrations, color printing settings, and lighting sources, we cannot be responsible for variations in color between the actual product and your screen.