The Carrington Collection®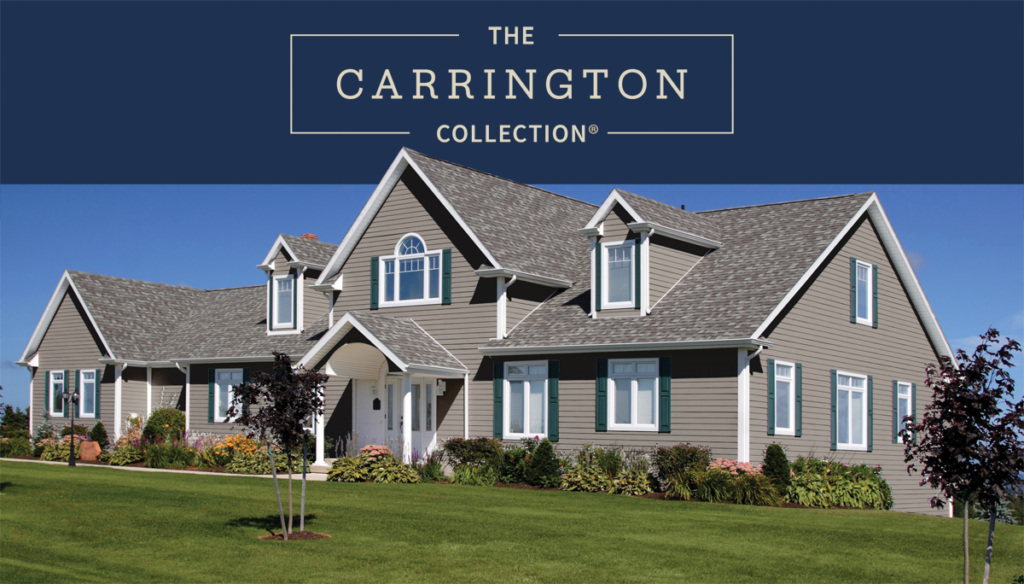 Premium Vinyl Siding
(.046 panel)
The Carrington Collection will transform your home with distinctive elegance, beautiful colors, and the ultimate in protection. Featuring extra rigidity, The Carrington Collection goes on straight and retains its pristine appearance for the lifetime of your home.
Numerous stylish colors to choose from to reveal the personality of your home.
Armor Coat®, a high-performance cap stock, produces fade-resistant colors and a lifetime of durability.
Exclusive double-staggered nail hems and deep bottom laps withstand gale force winds to protect your beautiful investment.
Limited Lifetime Transferable Warranty.
Available Colors
| | | |
| --- | --- | --- |
| White Birch 02 | Classic Sand 11 | Warm Sandalwood 17 |
| Sunny Maize 22 | Soft Willow 41 | Harbor Stone 44 |
| Basket Beige 46 | Slate Blue 47 | Graphite Grey 49 |
| Java 52 | Artisan Clay 61 | Seagrass79 |
| Twilight 80 | Canyon Brown 81 | Meadow 82 |
| Keystone 85 | Heritage Red 87 | Hampton Blue 89 |
| Gray Flannel 90 | Coffee Bean 91 | Onyx 92 |
| Mountain Pine 94 | Blue Ridge 96 | Woodland 97 |
D4 and DL4.5 Profiles Feature -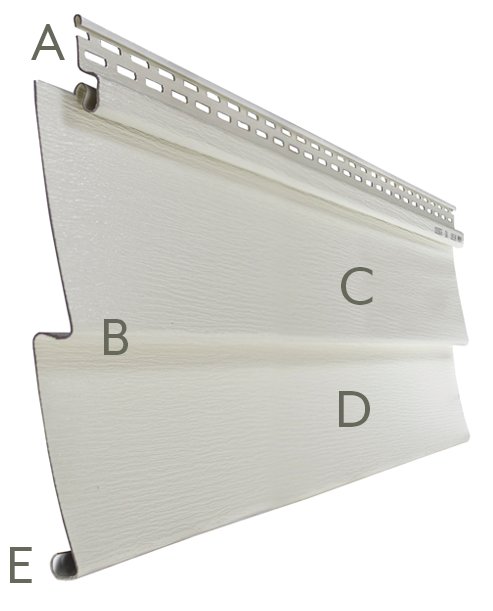 A) Double-Staggered Tuff-Hem™ Nail Hem
Every sheet has two rows of slots in a staggered configuration that enhances the stability of the siding and greatly improves attachment strength. This allows it to withstand gale force winds and resist sagging and twisting.
B)  Strength and Durability
The Carrington Collection's .046 superior thickness provides strength by design, enhancing installation and maintaining straightness for years of beauty.
The Carrington Collection siding is durable and is resistant to cracking, warping, swelling and expanding. It will not rot and is weather resistant.
C)   Molded with Armor Coat™
        UVA Performance Polymers
An exclusive blend of the best raw materials, UV stabilizers and performance modifiers give The Carrington Collection Premium Vinyl Siding superb color retention and weatherability. Even the newest, dark colors will resist fading so that your home will look great for a lifetime.
D)  Enhanced Impact Resistance
The Carrington Collection Premium Vinyl Siding meets industry standards for impact resistance, virtually eliminating dents or dings in siding.
E)  Tuff-Lock® Bottom Lap
Carrington's Tuff-Lock™ Bottom Lap measures 3/4" across – 20 percent larger than standard siding for the ultimate in locking integrity. Carrington's innovative design matches the contour of the top curl for superior attachment.
Talk to a sales representative today: 800-846-9599
---
Soffit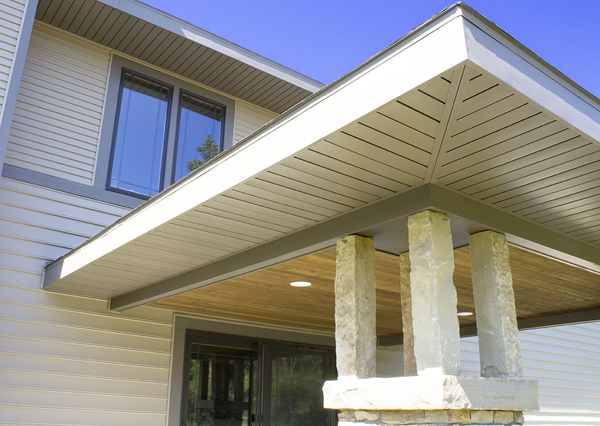 ProSpan Premium Soffit is made of impact resistant vinyl and features a positive locking system, for simple installation and years of homeowner satisfaction.
Beautiful colors in low luster matte finish
Full range of ventilation configurations
Panel design engineered for rigidity and sag-free performance
All Soffit panels are backed by a limited lifetime warranty
Available profiles
10" Double 5: Full vent vinyl soffit
10" Double 5: Solid vinyl soffit
10" Double 5: InVent vinyl soffit
12" Triple 4: Full, center, and InVent vinyl soffit
12" Triple 4: Solid vinyl soffit
White Birch 02
Classic Sand 11
Warm Sandalwood 17
Sunny Maize 22
Summer Wheat 26

Soft Willow 41

Pebble Clay 43

Harbor Stone 44

Basket Beige 46

Slate Blue 47

Graphite Grey 49

Topaz 51

Java 52
Artisan Clay 61

Seagrass79

Twilight 80

Canyon Brown 81

Meadow 82

Keystone 85

Nutmeg 86

Heritage Red 87

Hampton Blue 89

Gray Flannel 90

Coffee Bean 91

Onyx 92

Mountain Pine 94

Blue Ridge 96

Woodland 97

Musket Brown 9