Proven Brands and Support at Every Turn
Our diverse selection of siding styles, colors and profiles are sure to match any home and homeowner's desires. Style Crest's siding experts are always researching the latest trends, seeking new and unique products. RMC Siding offers premium choices used by many siding contractors. The Homex® Innovative Exteriors brand offers several profiles, colors and options and can be found at your local lumber yard or specialty dealer. In addition to our own brands of siding, Style Crest also distributes a vast array of other siding choices. Our Perrenia line of exterior accessories and accents, including vents, mounts, trim and shutters, is designed to complete any exterior siding job.
Yes. We are green.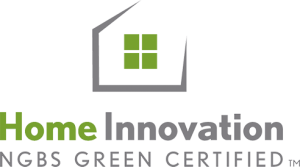 Style Crest Siding has a high-quality recycled content that reduces the product's impact on landfills and the environment.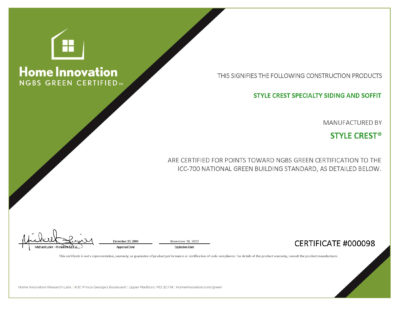 Check out our line of  Green  siding products:
RMC® Siding Brands: DuraSpan™ Soffit; Fairfield®; Oak Harbor®; ProPride®; Select Series; Spiegel Grove; and Porch Panel and Universal™ Soffit.
HOMEX® Brands: Addison Heights®; Alpine Ridge®; Bristol Bay®; Lexington® Series.
---
Style Crest Siding Brands
RMC Siding products serve the unique needs of distributors, their contractors and installers. Our siding lines cover the price-point spectrum from economy to super premium with a full range of accessories and specialty lines. All products are backed by the Style Crest commitment to product integrity and service.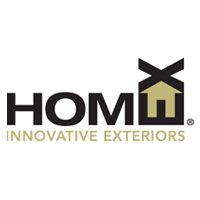 HOMEX® Innovative Exteriors are just that and more. The innovation does not end at the quality siding lines and accessories, it is boosted by a Dealer Success Program to ensure lumber and building materials dealers get the most out of their marketing approaches. Style Crest knows customer relationships are the foundation of every business, so we put our communications expertise to work for you in a step-by-step guide that will drive traffic right to your door.
---
Outdoor Specialty Siding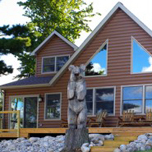 Timbermill® Simulated Cedar Siding
Unique and exceptional in its replication of natural wood, Timbermill incorporates a high-performance substrate with a high-durability film finish. Pattern variety adds to its authentic appeal. The siding is available in 4" or 7" face-board, log cabin profile and vertical siding panels. There is no painting, staining or sealing needed and it is impervious to wood-boring insects.
Color images represented on this website have been provided to give you a visual representation. However, due to variations in individual user's monitor settings, calibrations, color printing settings, and lighting sources,  we cannot be responsible for variations in color between the actual product and your screen.