RMC Siding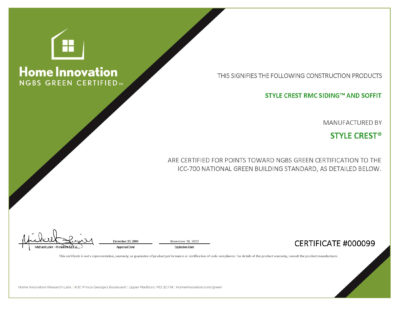 Beauty & Versatility, the Nature of our Products
RMC Siding® has a wide variety of vinyl siding products that will make your home's exterior stand out and look beautiful.
Extensive research in architectural design, color trends, and finishes has led RMC Siding to develop one of the broadest selections of vinyl siding products available. Whether your home building projects are determined by diverse aesthetic tastes or by budget, the RMC® Siding products line compliments the widest range of home styles to match your needs.

The Nature of our Technology
Along with outstanding beauty, RMC® vinyl siding is engineered for easy installation and lasting performance. We combine state-of-the-art manufacturing with continuous testing for texture, consistency and strength to deliver the high quality our customers expect. In addition, RMC® premium vinyl siding products are certified under the VSI Program and meet industry strength and wind resistance standards. All of this assures years of product integrity and satisfaction to both homeowners and builders who use our exterior and home vinyl siding.