What's New
---
---

---

Style Crest awarded Supplier of the Year a second year in a row.
The award was presented during the 2018 Manufactured Housing Institute Congress & Expo held in Las Vegas, NV. Voted on by the members of MHI, Style Crest was recognized for its innovation of new products along with its continued support and advancement of the manufactured housing industry. This is the seventh time Style Crest has been named MHI Supplier of the Year, previously winning the award in 1996, 1998, 1999, 2014, 2015 and 2017.
Style Crest is committed to providing the manufactured housing industry with extensive product offerings and a dedicated service platform that customers count on to support the success of their businesses. Style Crest continues to show leadership in the industry with their complete line of Revolv® heating and cooling solutions and innovative foundation cover products designed specifically for manufactured homes.  Style Crest recently introduced Titan Xterior Elite, Mason's Rock and Mason's Brick to provide the industry with more aesthetic foundation covers.
---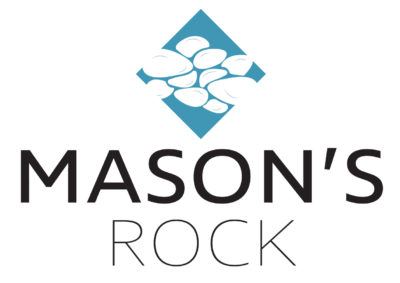 Mason's Rock now comes pre-trimmed to save hours of installation time.
Pre-vented 36″ panels eliminate the need for stocking a vent – saving time and money.
We've also added a third color, Tuscan Tan, to our popular Sedona Brown and Slate Gray panels.
Now you have even more choices, making Mason's Rock the perfect accent to any home!
---

On July 31st Style Crest acquired Magic Mobile Home Supply of New Mexico.
Magic Mobile Home Supply has been in operation for more than 40 years and has two locations in Albuquerque and Las Cruces, NM. Style Crest is the leader in Manufactured Housing building products distribution and we strive to serve the industry and our customers with the best products, service, delivery, and partnerships.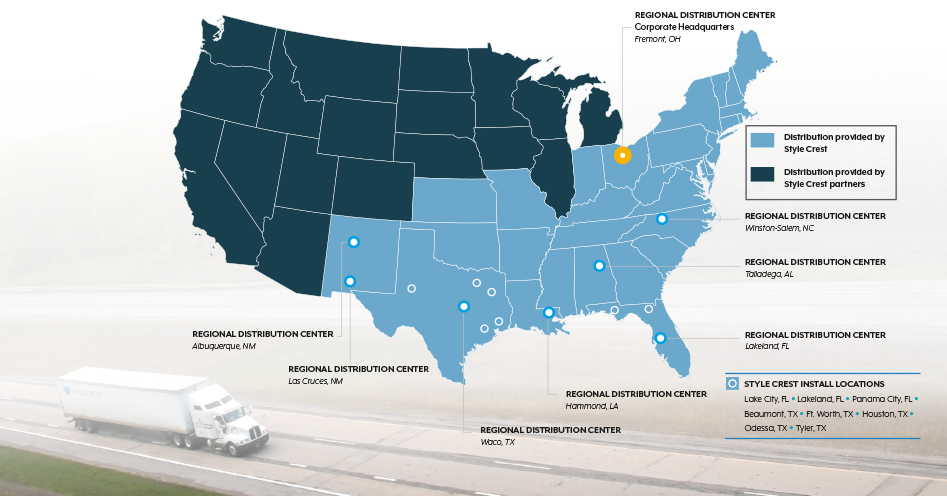 We welcome the Magic Mobile Home Supply team to the Style Crest family. With the combined expertise and experience of our two teams we are the supplier of choice!
---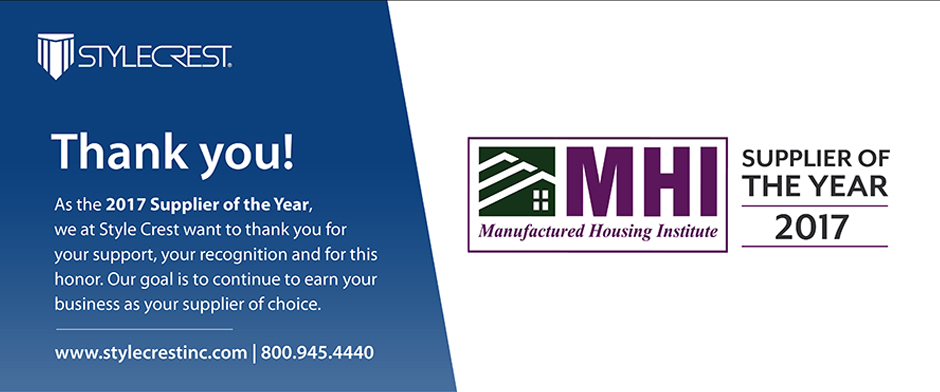 Style Crest named MHI Supplier of the year for a 6th time. Thank you all!
---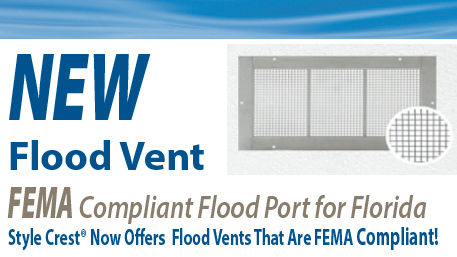 We now offer Flood Vents that are FEMA Compliant for our Florida market.
---


It's Time to Go for the Gold!
Your dream of having the best looking home on your street is attainable. For those who love to stand out, the easy win is Board & Batten Vinyl Siding. The vertical lines of Board & Batten siding create unique and distinct architectural details. Board & Batten looks spectacular by itself…or as an accent wall, it teams up well with many other exterior cladding products.
Take a look at Board & Batten's impressive medal count:
Style
Architectural detail of board-on-board style
Vertical orientation
Available in 15 distinctive mix & match colors
Durability
.048 premium gauge offers enhanced thickness & strength
Resists dents, hail damage, scratches & fading
Nail hem – creates secure attachments that can withstand gale-force wind
Maintenance
Limited Lifetime Warranty
Easy-care
Never needs painting
Quality
Positive locking system – panels lock securely together
Meets or exceeds industry standards for ASTM D3679
Meets VSI Standards
Responsible
NGBS Certified Green Product
To see all of our siding profiles and colors visit: www.stylecrestinc.com/residential
The Style Crest Sales Center is always happy to answer questions about any of our products or to help you with your order.
Contact the Sales Center:
800-846-9599 or your
Style Crest® Sales Representative today!
---
CrestWater® Cedar Shake's have a deep textured appearance of wood that looks like it has been hand-split by an axe, yet is formulated with an acrylic cap-stock for lasting fade protection. The deeply textured natural design adds to the beauty of a home with accent areas that create a high-end look at a reasonable price point. With a Class A fire rating, CrestWater Cedar Shakes can be used coast to coast. Visit www.stylecrestinc.com/crestwater to learn more.
---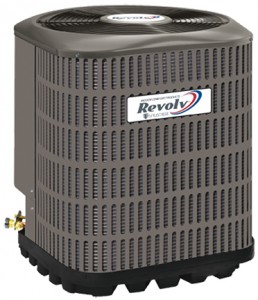 Fremont, Ohio – Style Crest recently introduced its next generation line of Revolv® HVAC products specifically designed for the Mobile Home Channel. According to Bill Vogel, Executive Vice President, Style Crest, "The next generation of Revolv products feature new and industry leading features and technology. This next generation of products also meets all of the current Federal standards, and is supported by the best warranty in the channel."
Style Crest partnered with Nortek® Global HVAC in the design and engineering of the new line of products. Nortek has over 50 years of engineering, design, and manufacturing capabilities in providing HVAC products for the manufactured housing industry, while Style Crest has served the MH channel with HVAC products and other building materials for the channel for over 40 years. The strategic partnership will allow the Revolv brand to continue to lead the industry in the development of state of the art products for the mobile home channel.
Bryan Kern, CEO, Style Crest noted, "Several years ago we recognized that changes in the federal energy efficiency standards would have a big impact on our customers and the products they buy from us. To meet these challenges we created the Revolv line and we partnered with several companies to create tailored solutions to meet the needs of the industry and our customers needs. The Revolv brand continues to grow and be recognized as the quality standard in the industry. We are excited about the addition of Nortek Global HVAC as a key manufacturing partner to our line of Revolv components, which will keep us in the forefront of design solutions for the Manufactured Housing Industry."
About Style Crest
Style Crest, Inc. is a manufacturer, distributor of over 4,000 products and installer, servicing the manufactured housing industry nationally for over 40 years. Style Crest has a profound understanding of the needs of its customers. Their approach is based on quality products and meaningful customer relationships. To learn more about Style Crest, visit, www.stylecrestinc.com, or call 800.925.4440.
About Nortek
Nortek is a global, diversified industrial company whose many market-leading brands deliver broad capabilities and a wide array of innovative, technology-driven products and solutions for lifestyle improvement at home and at work. The company's broad array of offerings includes ventilation products such as range hoods and bathroom fans, security and audio/video solutions, heating and cooling products, air management systems, and ergonomic and productivity solutions.
# # #
Bill Vogel,
Executive Vice President
Style Crest
Bryan Kern
CEO
Style Crest
---
Did You Know…
The Style Crest Perrenia line of Shutters is a quick easy way to add curb appeal to any home.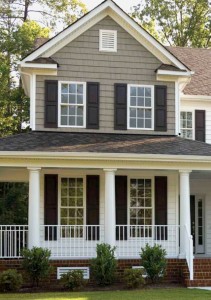 Homeowners are always looking for an affordable easy way to add curb appeal to their homes.
One of our three distinctive shutter styles, Colonial Raised Panel, Traditional Open Louvered and Board & Batten, will be just what is needed to set their home apart from the rest.
Now is the time for an upgrade. Choose from two great looks Four Board Joined or Three Board Split, in a variety of lengths, from 31 to 81 inches, in the most popular colors.
---
…Strengthens Foothold in Texas, Florida and the Southeast
Style Crest is pleased to announce the acquisition of Atlantic Service & Supply, effective June 16, 2015. This acquisition includes the assets of operations in Tyler and Ft. Worth, Texas, along with Lake City and Panama City, Florida. Atlantic's operations include HVAC installation, skirting installation, deck construction services, and supplying a full range of products for manufactured homes.

For current Atlantic customers, Style Crest will continue to service you with the same product mix and services offered today and will continue to operate this business under the Atlantic Service & Supply name as a Style Crest company. Style Crest is excited about adding the knowledge and experience of the Atlantic team to our expanded efforts in growing business in the Texas, Florida, and key Southeast markets. Over the years, Atlantic Service & Supply has continued to bring to market valuable products and services to their customers and plans are to use the combined efforts of Style Crest and Atlantic to be able to offer our customers enhanced services.
"As a national manufacturer and distributor of products and services for manufactured homes, this latest addition is another key strategic piece that supports our commitment and dedication to the manufactured housing industry." Bryan Kern, CEO, Style Crest, Inc. stated. "And with the acquisition of Atlantic Service & Supply we see great synergies and opportunities to grow our business in under-served markets. This is a win-win for both Style Crest and Atlantic customers".
---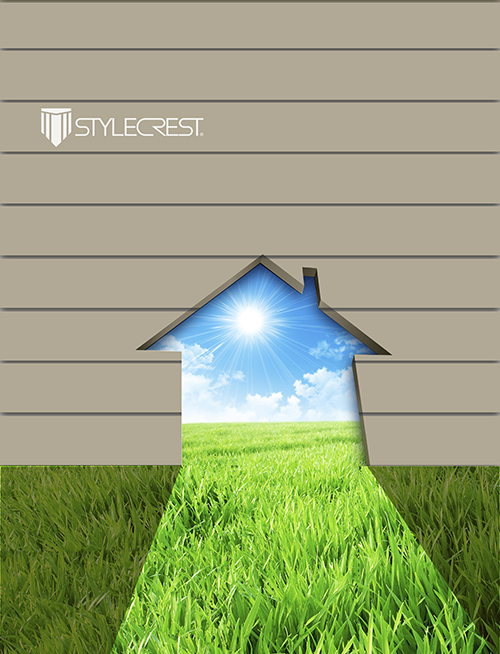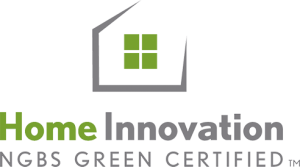 Other companies may make claims that their products contain recycled content, but cannot back those claims up with third party certification. Style Crest Siding has a high-quality recycled content that reduces the product's impact on landfills and the environment.
We are the only vinyl siding producer who is NGBS Green Certified, under 2008 NGBS green practice #604.1(2). This standard states that building materials with recycled content are used for at least 2 major components AND this product is used in conjunction with another major product with recycled content.
Check out our line of NGBS Green Certified siding products: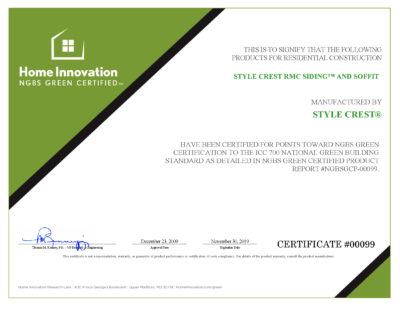 RMC® Siding Brands: DuraSpan™ Soffit; Fairfield®; Oak Harbor®; ProPride®; Select Series; Spiegel Grove; and Porch Panel and Universal™ Soffit.
---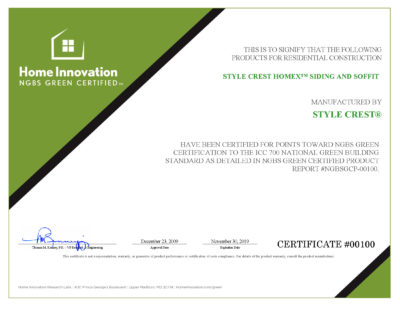 HOMEX® Brands: Addison Heights®; Alpine Ridge®; Bristol Bay®; Lexington® Series.
---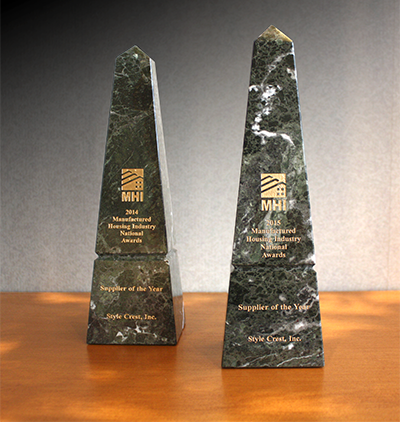 For a second consecutive year, Style Crest® has been awarded MHI Supplier of the Year. The award was presented during the 2015 Manufactured Housing Institute Congress & Event Expo, held at Paris Hotel and Casino in Las Vegas. Voted on by the members of MHI, Style Crest was recognized for its continued innovation in products and programs, along with its continued support and advancement of the industry. Bryan Kern, CEO, and Bill Vogel, Executive Vice President Sales for Manufactured Housing, accepted the award on behalf of the entire Style Crest organization.
Style Crest has continued to show leadership in the industry with innovative products including the complete line of Revolv® Indoor Comfort Products with AccuCharge® Systems designed for mobile home applications, Chocolate and Charcoal Skirting, Premium 13″ Skirting, and programs such as Generate Leads For Me and the Revolv® Dealer Program.
Style Crest is a manufacturer and distributor of over 4,000 products servicing the Manufactured Housing Industry nationally for over 40 years. This is the fifth time Style Crest has been recognized as MHI Supplier of the Year, previously winning the award in 1996, 1998,1999 and most recently, 2014.
---
Did you know?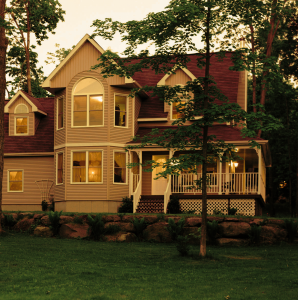 The quality of the installation is just as important as choosing a high quality vinyl siding? The best quality vinyl siding will live up to it's true potential of looking great and performing well for years to come when it is installed by a Certified Vinyl Siding Installer.
The VSI Certified Installer Program ensures that experienced professionals receive thorough training on proper, industry approved installation techniques. Using a combination of classroom training and written examinations given by a VSI Certified Trainer.
All VSI Certified Installers must be re-certified every three years, to ensure they stay abreast of the latest application techniques.
VSI Videos on You Tube
Check out the America Sides with Vinyl videos on You Tube. Marker
www.youtube.com/user/ASWVVideos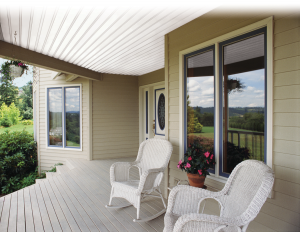 Check-out the full breadth of Style Crest vinyl siding products:
Be sure to look for the VSI logo.
---
Aluminum Trim in Many of Today's Most Popular Colors
Did you know…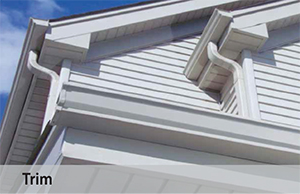 Style Crest has affordable aluminum trim options and offers a color match trim coil for all of our vinyl siding colors and some of our competitor's colors?
The complete line of quality aluminum products from ALSCO is available to you from Style Crest.  Color match trim coil for all Style Crest vinyl siding colors is available in PVC and most colors in Smooth.  ALSCO is the only trim coil manufacturer with approved color match trim coil for James Hardie ColorPlus Colors and Style Crest can provide these to you on a drop ship basis.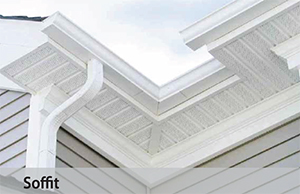 ALSCO's Perfect Trim, the industry's most comprehensive trim collection, in 34 of today's most popular designer trim colors, is available from Style Crest by special order.  All colors are available in soffit, fascia, trim coil and roof molding and we also have 36 colors available in a complete rainware system called Perfect Trim Plus. ALSCO is the perfect trim for a truly beautiful home.
For affordable alternatives in aluminum building products by ALSCO available through Style Crest, contact our Sales Center at 800-846-9599 or your Style Crest Sales Representative today!

---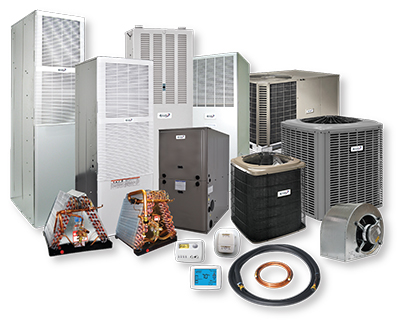 Certified Revolv® Dealers have successfully completed Revolv® Certification training. Each dealer listed below is knowledgeable in this product line, including Revolv® Air Conditioners, Furnaces, Heat Pumps, Packaged Systems, Line-sets, Condensers and Coils. All Certified Dealers have been tested in their knowledge of this product brand in order to achieve the "Certified Revolv® Dealer" status.
Click here for a list of Certified Revolv ®Dealers.
---

The right accessories provide a supplemental rain screen to a home's water-resistive barrier.
Vinyl siding is designed to allow the material underneath it to breathe, which in turn creates a healthier living environment. When properly installed; using the right vinyl accessories provides additional rain screening, reducing the amount of water that reaches the underlying water-resistive barrier and can create curb appeal.
Rain Screening Accessories from Style Crest Include:
Vinyl Fascia – the trim covering the ends of the roof rafters between the roofing material and the soffit overhang. We offer both 6-1/2 inch and 7-3/4 inch widths in our popular white birch color.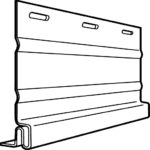 Vinyl Starter Strip – applied level, directly to the surface of the building at the lowest point siding will be installed, is used to secure the first course of siding to the home. Our starter strips are 2-1/2 inches wide by 12 foot- 6inches.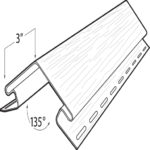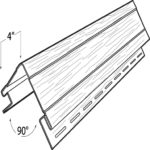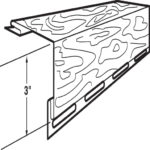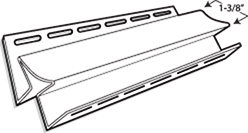 Inside and Outside Corners – transition trim used to cover the intersection of two walls. Our inside corner post comes in a length of 10 foot, features a 1-3/8 inches face with a 3/4 inch receiver and is available in a matte finish in 28 of our most popular colors. We offer a variety of outside corner posts.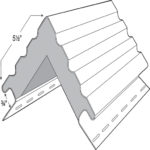 We also have a complete offering of F-Channel, J-Channel, and Finish Trim, including Window Lineals with or without foam inserts.
Use Accessories to Increase Curb Appeal!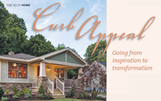 For some great ideas on how to make these functional accessories increase a home's curb appeal check out this curb appeal article from Charlotte Living.
---
Vinyl siding is the only exterior cladding with a product certification program administered by an independent, accredited quality control agency?
 VSI Product certification ensures products and colors, meet or exceed industry standards and gives consumers peace of mind.  Style Crest Inc. has received VSI Certification on our ProPride Vinyl Siding. Combining durability with affordability, low maintenance and curb appeal, ProPride's brushed cedar wood grain finish is available in a crisp 4.5″ Dutchlap profile in 10 refreshing colors.
---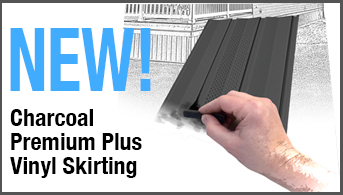 Style Crest Exclusive – Charcoal Premium Plus Skirting
Complements any style of home
Great curb appeal!

Solid and vented panels

Gloss finish that looks like freshly painted wood

16" wide panels for fast installation

Durable-highest impact resistance for long life

Rigorous quality control program ensuring consistent texture, color and performance

Large trim kits – 165' per kit!

Lifetime Limited Manufacturer's Warranty!
---
---