Half a Century and Still Going Strong!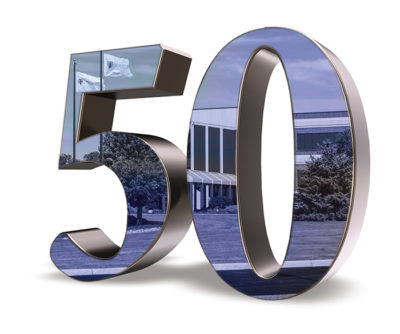 For over 50 years, Style Crest® has demonstrated its commitment to the manufactured housing industry and the residential exterior cladding market with an extensive product offering and a dedicated service platform that customers count on to support the success of their businesses.
When and how it all started:
While on a trip to Washington D.C. in the spring of 1967, Tom Kern and Eric Haas observed an abundance of manufactured and site-built homes with substandard entryways that appeared dangerous and were lacking curb appeal. This observation, combined with their desire to tap into the emerging plastics industry, sparked the idea to produce safer, durable, and appealing entryway steps and railings.
The first fiberglass steps were developed during the summer of 1967 at Tom's father's fabricating business and later perfected in Tom's home garage. The new entry step design utilized a wood base coated with several layers of fiberglass that was nearly indestructible.
Tom and Eric also experimented with developing polyurethane foam kitchen cabinet doors that could
be coated to resemble a wood-like finish. These products and fiberglass steps were at the core of the company's beginning.
1970, The launch of a new business:
With $12,000 in savings and a shortlist of investors to back him, Tom went into business with Eric, opening Poly-Foam International in Fremont, Ohio.
Producing fiberglass steps and cabinet doors, the Style Crest name was created and quickly became associated with steps, while the Poly-Foam name was connected to the kitchen cabinet doors.
Starting with a total of 15 employees, sales and marketing for the step business consisted of loading steps on a truck, driving to retail lots, and demonstrating performance using a sledgehammer to prove durability, winning over customers one by one.
The Business Expands
By the mid-1970s, growth was rapid, and the desire to expand prompted Style Crest to also begin distributing manufactured housing products.
1979, Style Crest carried or produced 4,000 products and had 60 associates on the payroll.
The truck fleet expanded to semi-truck and established PFI Transport to cover the Midwest, East Coast, and South.
1981, Style Crest acquired Anchor-Sur® Products, the primary anchoring system of the manufactured housing market.
1983, Style Crest began production Vinyl Foundation Skirting as an alternative to aluminum skirting.
1984, More distribution centers opened in Atlanta, Georgia and Tampa, Florida.
1985, The corporate office and factory were relocated to allow for expansion of production facilities, consolidation of distribution, and manufacturing was started in Florida.
1986, Another new division, GMH Enterprises, opened in Fremont, Ohio with a focus on real estate investment, development, building, and leasing warehouses.
The late 1980s saw the relocation and expansion of distribution centers in Florida, Georgia, and the opening of a new distribution center in Fremont, Ohio.
1991, Style Crest opened a fourth distribution center in Hometown, Pennsylvania.
1992, Resource Materials Corporation started producing a line of RMC Vinyl Siding.
1994, New Distribution Centers opened in Reidsville, North Carolina, and Waco, Texas.
Mid–1990s Style Crest expanded beyond the Manufactured Housing market and started selling vinyl siding to the Residential Housing market through 1-step specialty distributors and directly to independent lumberyards.
1996, Style Crest earned the National Supplier of the Year award from the Manufactured Housing Institute. This award recognizes companies for their vision, dedication, extraordinary achievements, innovation, and can-do attitude to promote a positive image and advance the industry. Style Crest wins this award an additional 7 times.
Late–1990's Style Crest increased customer service in North Carolina, Virginia, and West Virginia with three acquisitions.
Leadership & Progress: 2000's
The new millennium ushered in product improvements in both steps and vinyl siding. Style Crest introduced EZ Step with an additional slip-resistant safety feature along with a premium vinyl siding line, Harbour Crest™, for original equipment manufacturers.
2000, Style Crest purchased Keck-Hall Supply, another respected distributor of manufactured housing products in North Carolina.
2000, Continued progress resulted in building a new headquarters in Fremont, Ohio, and a seventh distribution center in Collins, Mississippi.
2001, Style Crest became the exclusive distributor of Magnavox Security Systems for the manufactured homes market.
Tom Kern was selected as "Industry Person of the Year" by The Journal.
Style Crest Sales was created to support sales of all York International Corporation Coleman brand HVAC equipment for the manufactured housing industry.
2003, Style Crest received the "Circle of Excellence" award from Fleetwood Homes, a leading manufacturer, and retailer of Manufactured Homes.
2004, A new distribution center opened in Russellville, Alabama. The Mississippi and Georgia warehouses were then consolidated into this 328,000 square foot facility.
2005, The Plant City Florida facility was relocated to a larger 35,000 square foot facility in Lakeland, Florida.
Hurricane Katrina devastated the Gulf region in 2005/2006. Style Crest took quick action by setting up two temporary distribution centers in Mississippi and Louisiana to support housing set-ups, helping 160,000 victims who lost their homes.
2006, Style Crest installed a new state-of-the-art packaging system, Auto-Packer, with a built-in vision system to assist in quality control.
Poly Foam International, Inc. officially changed its name to Style Crest Enterprises, Inc. Several of the nine divisions were then consolidated to streamline the business and formally transition to a one-company structure.
2007, Style Crest announced the opening of a new larger distribution center in Hammond, Louisiana, relocating the Prairieville facility.
HOMEX® Innovative Exterior vinyl siding was launched to service the Lumber Building Material Dealers channel.
2011, Style Crest opened another new, larger, distribution center in Archdale, North Carolina, relocating the Fayetteville facility.
2011 & 2012, Style Crest unified its line of HVAC products under the Revolv® Brand. Revolv HVAC products remain the only HVAC products on the market designed and tested to work together specifically for Manufactured Homes.
2013, Style Crest revamped its entire vinyl siding line offering an expanded palette of colors, profiles, and new embossments.
Style Crest also introduced its own brand of composite decking and railing, Medallion.
2014, Tom Kern, founder and Chairman of the Board, inducted into the RV/MH Hall of Fame as part of the Class of 2014.
Bryan Kern named CEO of Style Crest, Inc.
2015, Atlantic Service & Supply became part of Style Crest. Atlantic provided HVAC installation, skirting installation, deck construction, and other services to their customers through licensed contractors.
2016, CrestWater Cedar Shake Vinyl Siding is introduced.
The next generation of Revolv HVAC products was launched.
2017, Royal Durham Supply, a full line mobile home distributor and Style Crest customer, joined Style Crest with facilities in Oklahoma, Kansas, and Missouri.
Magic Mobile Home also joined Style Crest expanding the company's footprint with two locations in Albuquerque and Las Cruces, NM.
Style Crest foundation cover options expanded with Mason's Collection launch featuring Mason's Rock.
2018,Titan XTERIOR Elite insulated vinyl skirting is launched for manufactured homes.
Comfort Clad insulated vinyl siding and The Carrington Collection vinyl siding lines are launched for the residential housing market.

Mason's Collection expanded with the introduction of Mason's Brick.

Style Crest rapidly restored the Panama City location damaged by Hurricane Michael and provided valuable service to regionally affected manufactured home communities.
2019, Continued expansion saw Mobile Home Stuff Store of Wisconsin and Illinois join Style Crest.
Style Crest introduced Titan XTERIOR Prime, an extremely tough and aesthetically pleasing foundation cover.
2020,
Happy Anniversary! The best is yet to come…