Appliances Frigidaire Dishwasher 2-Cycle White
Part #: 05310005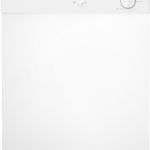 Appliances Frigidaire Dishwasher 2-Cycle White
05310005MH
Dishwasher Specifications
Place Settings 12
Wash Levels 2
Integral Air Gap on Supply Yes
Water Usage (Gallons) 7.2
Exterior Dimensions
Height 34-7/8"
Width 24"
Depth 25"
Depth (with Door 90° Open) 49-14"
Cycles
Number of Cycles 2
General Specifications
Decibel level (dB) 62.0
- Tall-Tub Design - Our large capacity, tall-tub dishwasher fits up to 12 place settings so you can wash more at once.
- Energy Saver Dry Option - No heat dry option.
- Delay Start - Set your dishwasher to run on your schedule.
- SpaceWise Silverware Basket - There's a place for all of your silverware in our multi-compartment, removable basket.
- Ready-Select Controls - Easily select options with the touch of a button.
DISHWASHER FRIGIDAIRE-WHITE