Plumbing Bath Shower Door – Hinged 28″ x 65″
Part #: 5327501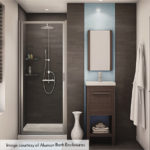 Plumbing Bath Shower Door - Hinged 28" x 65"
5327501MH
The Hinge Shower Door offers an innovative alternative to traditional hing–style doors. Internalized hinge to improve function, strength, durability and look.
• The doors ha ve been siz ed so that adjustments are from -0" to +1½".
• The up t o ¾" out -of-square adjustment on each wall will work better in fiberglass stalls.
SHOWER DOOR-28"x64"-HINGED