HVAC Revolv RG1 80% AFUE Gas Furnace – Downflow – 70KBTU – 4 Ton -with Cabinet
Part #: RG1D70C4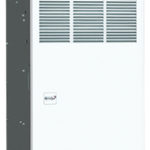 HVAC Revolv RG1 80% AFUE Gas Furnace - Downflow - 70KBTU - 4 Ton -with Cabinet
RG1D70C4MH
- Sealed Combustion : Vents exhaust gases directly outdoors and draws in outside fresh air for combustion.
- Modern Hot Surface Ignition: No pilot lights to blow out.
- Low Maintenance: Sealed bearings on motors, reliable controls and burners.
- Appliance Quality Metal Door: With baked enamel finish for long life and easy cleaning.
Input KBTU/H 70
Output KBTU/H 57
Orifice Number Natural gas 24
Orifice Number LP 42
A/C Ready Tons 4
Shipping Weight Lbs 173
FURNACE-GAS 70BTU-80% -4T-W/CAB