HVAC Revolv 14 SEER Heat Pump Sweat Fit Split Systems 4.0 Tons
Part #: RSHS484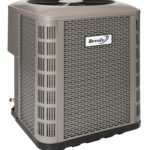 HVAC Revolv 14 SEER Heat Pump Sweat Fit Split Systems 4.0 Tons
RSHS484MH
- New Corner-Post Design with louvered panels.
- Improved Composite Drain Pan design has more drain holes for condensation evacuation.
- Corner-Post Packaging creates a gap around the entire unit, minimizing pressure on the unit and contact with the carton.
- Micro-Channel Coils provide high efficiency while reducing cost and refrigerant volume.
Specifications:
New AHRI Model Number : RSH1BE4M1SP48K
COND HP SWT 4T/48K MC 14SR