HVAC Revolv 13 SEER Air Conditioning AccuCharge® Split Systems 4.0 Ton, Northern DOE Region Only
Part #: RSCQ483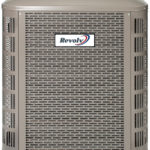 HVAC Revolv 13 SEER Air Conditioning AccuCharge Split Systems 4.0 Ton, Northern DOE Region Only
RSCQ483MH
- New Corner-Post Design with louvered panels are easily removed for service.
- Improved Composite Drain Pan design has more drainage holes for condensation evacuation and molded steps to prevent coil shifting.
- Corner-Post Packaging creates a gap around the entire unit, minimizing pressure on the unit structure and contact with the carton.
- AccuCharge Systems consist of pre-charged quick-connect equipment and line sets.
Specifications:
New AHRI Model Number : RSA1QD4M1SN48K
COND AC QC 4T/48K MC 13SR