Revolv Authorized Dealer Program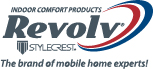 Our complete line of Revolv® Indoor Comfort Products is the next generation of HVAC equipment designed specifically for mobile home applications.
Revolv represents the sum of Style Crest's mobile home HVAC expertise, assembled under a single brand and includes split-system air conditioners and heat pump condensers, indoor coils, furnaces, line sets, compact package coil cabinets and accessories.
Revolv advanced indoor comfort products are exclusively engineered for the mobile/manufactured housing industry. Mobile Home HVAC equipment is different by design, to accommodate the unique needs of the industry, including:
Smaller furnace footprint-and indoor coils

Reduced airflow-smaller duct work and higher static pressure

New refrigerant and energy standards
Revolv brings the best of industry knowledge, experience, design, and support to the mobile home HVAC dealer.
How It Works
What can an
Authorized
Revolv
®
Dealer
expect to get?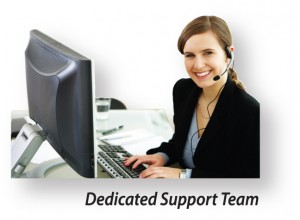 A dedicated sales support team to help meet your local market demands
Access to AHRI rated and certified equipment THAT WORKS!
Dedicated Toll Free tech support
Online web access to technical data, installation instructions, parts lists, etc.
Online equipment registration and warranty
Ready for the next step. Once you are authorized take the next step for Certification. Successfully take and pass five training modules to receive certification.

Certified Revolv Dealers will gain additional benefits


Company names and phone numbers listed on the Style Crest website as Certified Revolv® Dealers
Preferential warranty rates
Go to the front of the line for customer referrals from Style Crest
Certified Dealers
Certified Revolv® Dealers have successfully completed Revolv Certification training. Each dealer listed below is knowledgeable in this product line, including Revolv® Air Conditioners, Furnaces, Heat Pumps, Packaged Systems, Line-sets, Condensers and Coils. All Certified Dealers have been tested in their knowledge of this product brand in order to achieve the "Certified Revolv Dealer" status.
NOTE: THESE ARE INDEPENDENT BUSINESSES AND ARE NOT DIRECTLY AFFILIATED WITH STYLE CREST, INC. THEIR CERTIFICATION INDICATES ONLY THAT THEY POSSESS AN UNDERSTANDING OF THE REVOLV® PRODUCT LINE.
Contact a Certified Revolv Dealer in your area today.
AL
Mayberrys AC Service
205-312-1104
Verbena
 
Whites Heating & Air Inc
501-767-0078
Hot Springs
CA
A Cool Touch Air Conditioning
951-970-2477
Oceanside
 
Evans Heating & AC
951-529-1055
Riverside
CO
Dwights Home Service
719-589-9717
Alamosa
 
Tom Ladd Plumbing and Heating
970-686-7793
Windsor
FL
Pollock Heating & Air Inc
850-626-5555
Milton
IA
Ballantyne Heating
402-943-9964
Council Bluffs
ID
TVM Heating & Air Conditioning Inc
208-323-7830
Meridian
www.tvmheatingandair.com
IL
Lartz Heating & Air
309-828-7814
Bloomington
 
Superior Mobile Home Service Inc
708-672-7799
Crete
www.smhs-il.com
 
Northern Continental Heating & Cooling
815-459-9412
Crystal Lake
 
Rons AC
618-516-3373
Fairfield
 
McNeill Heating, AC & Seamless Guttering
618-942-5008
Marion
 
Scotts Services
618-322-3026
Mason
 
Technicians Services HVAC
217-577-3483
Quincy
 
Thomas Solar Works
815-476-9208
Wilimington
IN
Comfort Plus Heating & AC
260-493-7177
Fort Wayne
 
DEQ Inc
812-936-4485
French Lick
 
Area Services
574-867-6361
Grovertown
 
Pendleton Heating & AC
765-474-2604
Lafayette
 
Dobson Comfort Solutions
812-363-0425
Sunman
KS
Comfort Systems Inc
620-285-3947
Larned
 
Comfort Systems Inc
620-285-3947
Larned
 
Comfort Systems Inc
620-285-3947
Larned
KY
Phoenix Comfort Systems LLC
859-918-5400
Florence
MD
MH Mobile Home Inc.
410-880-6046
Laurel
MI
Dan & Chris Schmig Heating
517-357-4133
Hillsdale
 
Danko & Son Inc
517-487-0507
Lansing
MN
Morts Heating Inc
218-634-1366
Baudette
 
Towns Edge Homes Inc
320-685-3589
Cold Spring
 
Countryside Refrigeration & Heating, Inc
507-387-2069
Mankato
 
Johnsons Electric
218-386-2663
Warroad
MT
Halcro Heating & Cooling
406-463-2223
Power
NE
Correll Refrigeration Inc
308-284-6715
Ogallala
NM
MGS Refrigeration Heating & Cooling
575-443-1249
Alamogordo
 
Sapphire Mechanical
505-281-9273
Edgewood
 
D C Gustafson Company LLC
505-722-7630
Gallup
NV
CYBR AC & Heating
702-616-3152
Las Vegas
 
JMAC Plumbing & Air Conditioning
702-227-5622
Las Vegas
 
Valley Refrigeration
702-397-8322
Overton
NY
Interstate Homes LLC
607-693-1632
Harpursville
OH
Greg Lonsway Electric
419-435-1429
Fostoria
 
Air Management Heating & Cooling LLC
740-258-6015
Hebron
 
Larry Lee Heating, AC and Electrical
937-539-0756
Lakeview
 
Quality Mechanical Services
419-229-9781
Lima
 
Franks Heating & Air Conditioning
937-367-9551
Miamisburg
Bell Cooling & Heating
740-397-8585
Mount Vernon
 
Diekmann & Son Construction
330-484-5457
Navarre
OK
Leggett Supply Inc.
918-681-2211
Muskogee
PA
USA Sales & Service Co.
570-655-7155
Pittston
SD
JD's Equipment Service
605-716-1366
Black Hawk
 
Jimsco Homes Inc
605-330-1996
Sioux Falls
TN
Slovers Electric Service
423-784-6375
Jellico
 
Jerry Gregory Heating & Cooling
615-388-3550
Lafayette
TX
LoAira's Services
281-736-2945
Houston
 
A-Action Aire Inc – San Antonio
210-648-3801
San Antonio
 
Mr Chill Heating & Air LLC
281-364-0444
Tomball
UT
Arvs Trailer Repair LLC
801-731-2316
West Haven
VA
Parker Darden Heating & AC
757-569-8445
Franklin
WA
Superior MH Parts
253-588-4901
Lakewood
WI
A-F Heating & Air Conditioning
608-339-8135
Friendship
 
Riverside Supply & Repair Inc
608-562-3000
New Lisbon
 
Lemke Heating & Air Conditioning
715-582-3597
Peshtigo
 
Northern Heating Inc
715-234-3110
Rice Lake
 
Sunshine Heating & AC
715-258-8507
Waupaca
Iseman Homes
307-682-0201
Gillette
 
Timberline Plumbing & Heating LLC
307-871-4694
Green River
 
Alpine Climate Control Inc WTY
307-672-9748
Sheridan
Collateral
Revolv
®
branded collateral to help carry the message that you (the dealer) are a mobile home HVAC expert the consumer can count on, including:
Truck signage (Decal or magnet)
Store/location signs
Revolv® ball cap
Business cards
Refrigerator magnets
Note pads
Inspection forms
Lead generation programs

Decal Video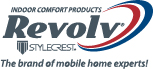 The featured video will demonstrate how best to apply your Revolv® Decal on your vehicle.
Revolv®Authorized Dealer Decal Installation Instructions
For more information on Revolv® or to apply to be a Revolv® dealer Contact us at:
Style Crest®
1-800-945-4440
RevolvDealer@stylecrest.net
Brochure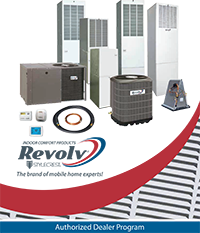 Click here
to download the Revolv Authorized Dealer Program brochure.
Order Form
Welcome to the Revolv® Authorized Dealer Program.
This order form
lists everything you will receive when you join, plus provides an opportunity to order additional promotional items to help show your involvement in this valuable program.
For more information on Revolv® or to apply to be a Revolv® dealer Contact us at:
Style Crest®
1-800-945-4440
RevolvDealer@stylecrest.net