Home
»
Manufactured Housing Products
»
Revolv Indoor Comfort Products
» Revolv Authorized Dealer Program
Revolv Authorized Dealer Program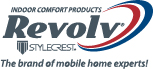 Our complete line of Revolv® Indoor Comfort Products is the next generation of HVAC equipment designed specifically for mobile home applications.
Revolv® represents the sum of Style Crest's mobile home HVAC expertise, assembled under a single brand and includes split-system air conditioners and heat pump condensers, indoor coils, furnaces, line sets, compact package coil cabinets and accessories.
Revolv® advanced indoor comfort products are exclusively engineered for the mobile/manufactured housing industry. Mobile Home HVAC equipment is different by design, to accommodate the unique needs of the industry, including:
Smaller furnace footprint-and indoor coils

Reduced airflow-smaller duct work and higher static pressure

New refrigerant and energy standards
Revolv® brings the best of industry knowledge, experience, design, and support to the mobile home HVAC dealer.
How It Works
What can an
Authorized
Revolv
®
Dealer
expect to get?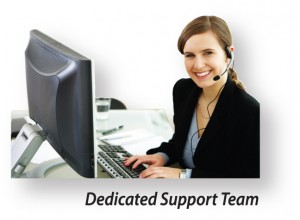 A dedicated sales support team to help meet your local market demands
Access to AHRI rated and certified equipment THAT WORKS!
Dedicated Toll Free tech support
Online web access to technical data, installation instructions, parts lists, etc.
Online equipment registration and warranty
Ready for the next step. Once you are authorized take the next step for Certification. Successfully take and pass five training modules to receive certification.

Certified Revolv® Dealers will gain additional benefits


Company names and phone numbers listed on the Style Crest website as Certified Revolv® Dealers
Preferential warranty rates
Go to the front of the line for customer referrals from Style Crest
Certified Dealers
Certified Revolv® Dealers have successfully completed Revolv® Certification training. Each dealer listed below is knowledgeable in this product line, including Revolv® Air Conditioners, Furnaces, Heat Pumps, Packaged Systems, Line-sets, Condensers and Coils. All Certified Dealers have been tested in their knowledge of this product brand in order to achieve the "Certified Revolv® Dealer" status.
Contact a Certified Revolv® Dealer in your area today.
A list is coming very soon. Please check back in a day or two.
Collateral
Revolv® branded collateral to help carry the message that you (the dealer) are a mobile home HVAC expert the consumer can count on, including:
Truck signage (Decal or magnet)
Store/location signs
Revolv® ball cap
Business cards
Refrigerator magnets
Note pads
Inspection forms
Lead generation programs

Decal Video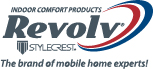 The featured video will demonstrate how best to apply your Revolv® Decal on your vehicle.
Revolv®Authorized Dealer Decal Installation Instructions
For more information on Revolv® or to apply to be a Revolv® dealer Contact us at:
Style Crest®
1-800-945-4440
RevolvDealer@stylecrest.net
Brochure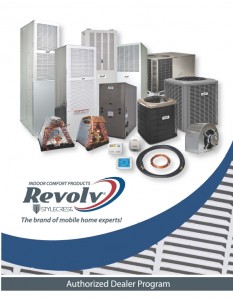 Click here
to download the Revolv Authorized Dealer Program brochure.
Order Form
Welcome to the Revolv® Authorized Dealer Program.
This order form
lists everything you will receive when you join, plus provides an opportunity to order additional promotional items to help show your involvement in this valuable program.
For more information on Revolv® or to apply to be a Revolv® dealer Contact us at:
Style Crest®
1-800-945-4440
RevolvDealer@stylecrest.net